WTC Rebuild Scandal 2
Hsaive
Sun, 02/28/2010 - 5:11am
NEW YORK POST - Last Updated:Sun., Feb. 28, 2010, 04:56am
http://www.nypost.com/p/news/business/cantor_bid_is_hiked_by_hWwWOXdIVfcvOL5nkISWuO
CANTOR Fitzgerald has boosted its damages claim in the September 11, 2001 terror attacks by more than $1 billion to cover lost profits after two-thirds of its work force perished in the World Trade Center collapse.
The global financial services firm, which initially sought only $102.5 million, demanded the eye-popping amount "on the eve of mediation" last year, according to a new Manhattan federal court filing, the New York Post reports.
Defendant American Airlines -- whose Flight 11 crashed into the north tower of the World Trade Center in New York -- will seek to have the "dramatic increase" dismissed on grounds that it's a "disguised wrongful death claim" with no basis in law, the court papers say.
A Cantor spokesman declined to comment.
Cantor's claim was revealed in an agreement to settle $6 billion worth of property-damage suits filed by 80 businesses, including the former Windows on the World restaurant, World Trade Center Farmers Market and numerous insurance companies.
Former Accused Iraqi Agent
Susan Lindauer, Secret Charges and
The Patriot Act in Action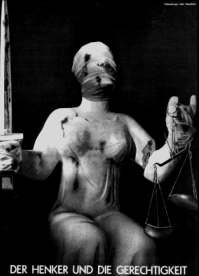 The Executioner and Justice - John Heartfield
Susan Lindauer Interviewed by Michael Collins
'Voice or no voice, the people can always be brought to the bidding of the leaders. That is easy. All you have to do is to tell them they are being attacked, and denounce the pacifists for lack of patriotism and exposing the country to danger. It works the same in any country." Herman Goering, Interview at Nuremburg Trials, April 14, 1946
"The Patriot Act was used against me in total contradiction to its stated purpose. Or perhaps it was the most logical use of the law, since it establishes a legal framework to crush free thinking and interrupt individual questioning of the government. It is the beginning of all dictatorship in America." Susan Lindauer, March 9, 2009
In March, 2004 Susan Lindauer was arrested for allegedly acting as an "unregistered agent" for prewar Iraq. She challenged the government's assertion and sought the right to prove at Trial that she'd been a United States intelligence asset covering Iraq and Libya from the early 1990's through 2003 (see articles).
In an unprecedented judicial ploy that lasted five years, federal prosecutors blocked Ms. Lindauer's rights to trial or any other sort of evidentiary hearings that would test her story. For 11 months, she was confined at Carswell federal prison on a Texas military base and at the Metropolitan Correctional Center in Manhattan, without a conviction or plea bargain.
This is copied from another blog i found on www.msnbc.com #3 parts in order;
• March 11, 2005 | 9:40 p.m. ET
Freedom Tower politics (David Shuster)
The blogs we've been posting on the Freedom Tower continue to generate a huge number of e-mails. Every day, I've been receiving articles and stories detailing a host of new engineering problems associated with the current plan for lower manhattan. [Blog: Freedom Tower Vs. Twin Towers; Blog: Rebuild the Twin Towers]
The latest issue concerns a plan by Governor Pataki to sink an eight lane street beneath the proposed Freedom Tower park.There are two problems: First, Verizon says it would need to relocate a massive amount of underground telecom gear in order to clear a path for the tunnel. (Verizon says this move could delay the entire project for two years.) Secondly, the proposed underground construction project would be akin to Boston's "big dig." Only this time, the chaos and mess would be in Lower Manhattan.
I could go on and on. It seems likely that this Freedom Tower project is going to keep a hole in the Manhattan skyline (and thrill Al-Qaeda) for at least a decade. Many of you have said that construction on "newer, stronger, and taller twin towers" should have already begun. To all of you who have been wondering, "Is it too late to scuttle the freedom tower and rebuild the twin towers?" the answer is clearly "No."