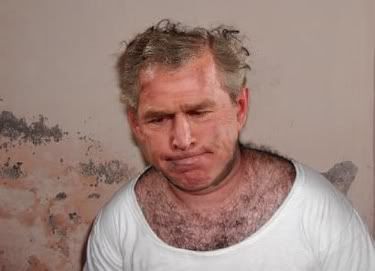 There's a man who leads a life of danger
To everyone he meets he stays a stranger
Parsing the statements of George Bush is of course handicapped by the man's uncommon illiteracy, though when he sticks to his prepared texts we can get some indication of what his keepers want us to hear, even if Bush himself doesn't know what he's saying. Take, for one bizarre instance, the opening remarks to his Rose Garden news conference last Friday.
In defence of torture and secret prisons he boasted of the "valuable information" obtained by the CIA from waterboarding "men like Khalid Sheikh Mohammed" (whose telephone conversations with Mohammed Atta, including final approval for the attacks on September 10, are known to have been monitored and translated by the NSA, but apparently not acted upon).
<snip>
But back to Bush and his Friday remarks:
Khalid Sheikh Mohammed described the design of planned attacks of buildings inside the U.S. and how operatives were directed to carry them out. That is valuable information for those of us who have the responsibility to protect the American people. He told us the operatives had been instructed to ensure that the explosives went off at a high -- a point that was high enough to prevent people trapped above from escaping.

Even allowing for the bell curve of his usual nonsense, what sense does this make?
The Guardian transcript has Bush saying that Khalid "described the design of plane attacks," rather than the official "planned attacks." The video, available from the White House website, confirms "planned." Perhaps the Guardian couldn't quite believe what it was hearing. Because Bush went on to say that the operatives of the planned attacks were instructed in the placement of explosives. Adding, as though it's the clearest thing in the world, that Khalid disclosed the explosives were to detonate at "a point high enough to prevent people trapped above from escaping."
Before we rush to judgement, believing Bush is letting it slip that the towers were demolished, watch the video. Bush isn't riffing here; he isn't straying from the prepared text. His remarks were crafted with care. So why would he be given such lines, which could so easily be construed by 9/11 skeptics as an inadvertant admission of controlled demolition? Perhaps because, as I believe was Rumsfeld's intention when he "misspoke" of a "missile" striking the Pentagon the very week Thierry Meyssan launched his "no plane" website, that's precisely where they want our attention, whether or not demolition is a fact. (And it will only be our attention, as the corporate press either don't have the ears or the stomach for it.)
So here's the scene: the White House invoking invisible man Khalid Sheikh Mohammed to excite our imagination with an oddly-worded statement strongly suggestive of demolition, when our attention would be better rewarded by considering Khalid himself, his service to the ISI and the ISI's service to US intelligence. But Bush will never be written the words to encourage such thoughts.
Read entire article here ...