eleventh day
art V
Thu, 06/21/2007 - 1:39pm
If you are not already aware there is an international grassroots movement that is growing like wild fire by taking action the Eleventh Day of Every Month for 9/11 Truth and Justice. The movement was hatched in a tiny San Francisco apartment by Cosmos/YT, a single man with the vision of 9/11 Truth and Justice. Since that first blog entry posted on February 6 we have seen this Call to Action capture the citizens of the world.
First there was an exceptionally well put together film called "The Third Stage." I know the first time I watched it I was brought to tears. The video was so powerful that Alex Jones brought Cosmos on to his show to talk about the Call to Action and the website TRUTHACTION.ORG. We saw a surge in participation immediately after that. But if I remember correctly that was back in April. Where is the love? Can't we get this movement promoted every month?
art V
Sun, 06/10/2007 - 4:08pm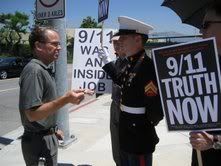 Last month USMC Johnny Wave stood up for the truth. The pictures were powerful, emotional and inspirational. What a brave man Johnny Wave was. He touched so many of us that day. He gave us hope. The pictures were everywhere. If Johnny Wave was an inspiration to you or if you sent those pictures to your friends and family it's time to take a stand. Take it to the streets. If we continue to be timid in the streets we will lose our country. The time is NOW, it's upon us. Johnny Wave took that stand expecting to make a difference. HE DID and he expects that each of you do the same. He stuck his neck out for all of us that know the truth about 9/11 and we MUST take action and we MUST take it NOW. If you don't take action Johnny Wave's courage means nothing and his actions are wasted. That's a horrible thought in my mind. Everbody MUST do something whatever it is, its got to be something. Then show us what you did at TRUTHACTION.ORG and link up with truthers near you.