Hero
Source: http://www.nydailynews.com/ny_local/2010/12/06/2010-12-06_nypd_hero_kevin_czartoryski_stricken_by_911related_lung_disease_...
NYPD hero Kevin Czartoryski, stricken by 9/11-related lung disease, dies at 46
BY John Lauinger
DAILY NEWS STAFF WRITER
Monday, December 6th 2010, 4:00 AM
Retired Detective Kevin Czartoryski, who helped improve relations between the NYPD and the gay
community, died Sunday following a battle with lung disease. He was 46.
Czartoryski, who retired in 2009 on a 9/11 medical disability, died at New York-Presbyterian Hospital
Weill Cornell in Manhattan. No cause of death has been determined, but Czartoryski suffered from
pulmonary fibrosis, a lung disorder usually suffered by people exposed to asbestos for long periods.
The NYPD medical board determined his condition was caused by his time at Ground Zero, searching
for remains and staffing a makeshift morgue.
His condition improved after a single lung transplant in May, but deteriorated again in August.
Last month, doctors found cancer in his other lung that had spread to his bones and stomach.
Rosie O'Donnell is a Hero. Thank you Rosie for being strong enough to stand for what is right!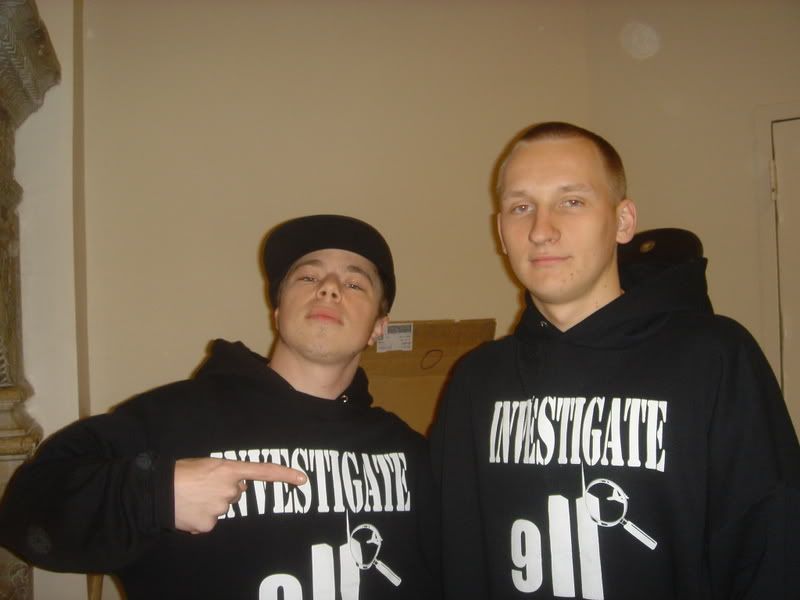 Dan Wallace, Hero and 9/11 Truth Warrior (top picture on left, pictured with Luke of NY911Truth)
Very sad to bring this over from the Loose Change Forums.
One of our most prominent, courageous and dedicated young members of NY911Truth and CHANGE, Dan Wallace is no longer with us.
Dan's father Robert Wallace gave his life on 9/11/01, leaving Dan with many unanswered questions about 9/11.
Dan was an ardent activist who showed no fear when confronted by police at street actions at WTC Building 7 and at the New York Stock Exchange. Dan was an eloquent speaker, both on videos of the street actions and at St. Mark's Church, where he gave a moving oration before a packed crowd in a recent Sunday night presentation.
Dan Wallace, 23, was found dead early Monday morning in his bed. The exact cause of death is yet to be determined.
He was a young man of great conviction and conscience, and his heart was as big as his smile. Dan will be sorely missed by myself and the members of "We Are Change," as well as all of us in the New York 911 Truth organization. Our hearts go out to his family, especially his mother who must endure the deaths of a husband and child in the span of only a few years.