Supporters counter protesters in colorful display near library
http://venturacountystar.com/news/2007/may/04/supporters-counter-protesters-in-colorful-near/
The dolphin waving a black flip-flop staked out one side of Madera Road. The ostrich holding a red poster staked out the other.
In between the porpoise's "Mitt Romney is a flip flopper" message and the ostrich's urging of presidential candidates to pull their heads out of the sand and address Social Security were an array of demonstrators with a single mission: to get their messages to the 10 Republican presidential candidates at the Ronald Reagan Presidential Library and Museum in Simi Valley for the country's first GOP debate this year.
Young, earnest, well-heeled people in dark suits and pearls waving placards for former New York City Mayor Rudy Giuliani stood next to a contingent of folks with a huge banner that proclaimed "Rudy without 9/11 you are nothing" and signs demanding the truth about the attacks on New York and the Pentagon.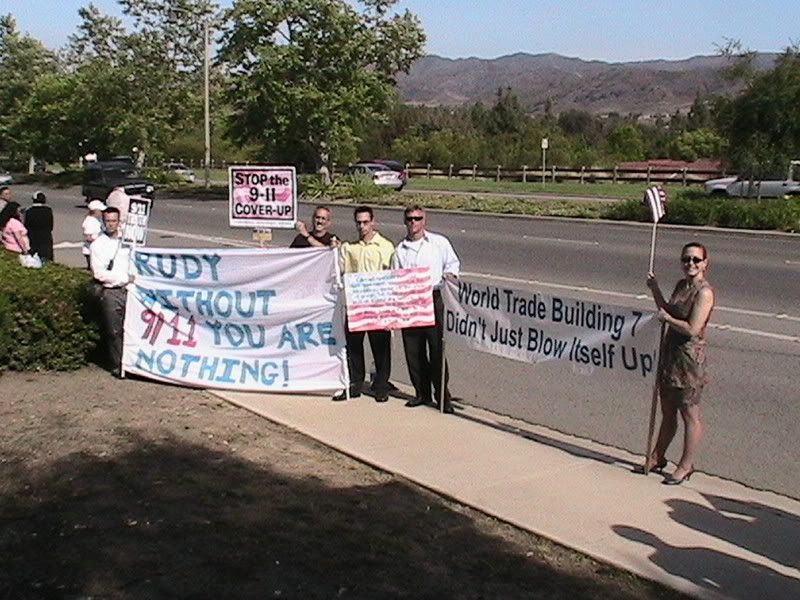 There was a group of older adults with banners urging Texas Rep. Ron Paul for president. A crowd of supporters for Sen. Sam Brownback of Kansas arrived late with blue and white placards and T-shirts and took up a position across the street.
Then there was Tony Pierce. A solitary figure, separate from the throng, Pierce, a Simi Valley resident, waved his Obama in '08 sign at passing cars a reference to Illinois Sen. Barack Obama, a Democratic presidential hopeful.
"What I'd like to hear the Republicans talk about is how to unite the country," Pierce said. "I'd like to hear that from Republicans and Democrats."
Giuliani's supporters, who included a number of college students, outnumbered the other demonstrators. "He's the most fiscally disciplined candidate," Sean Fago, 28, of Brea, said of Giuliani.
George Lopez, 20, of Thousand Oaks, isn't a big Giuliani fan. He was with those demanding the truth about the attacks on Sept. 11, 2001. "I just wish people would wake up and ask questions," he said.
Part of the time two airplanes circled overheard. One carried a banner that read "Republicans Mission Accomplished?" The banner on the second plane read "McCain Mission Accomplished?"
As the debate grew near, the crowd began to thin, the sidewalks cleared out and on the north side of Madera Road, only the dolphin was left.