Janette MacKinlay, February 26, 1948 – December 9, 2010

Janette MacKinlay
It is with a very heavy heart that I feel compelled to share the news with the Truth Movement that our beloved Janette MacKinlay, 9/11 survivor, activist, organizer, author, artist passed away yesterday morning. We will always miss her.

Janette's book- Fortunate: A Personal Diary of 9/11
Janette lived across the street from the World Trade Center in 2001 and was not merely a witness to the attacks, but survived, along with her fellow artist and companion, Jim Lecce, when their artloft's windows were broken and their apartment filled with dust and debris when the World Trade Center tower came down. Janette's book, Fortunate: A Personal Diary of 9/11 is a vivid account of her experiences. She has told her story many times, in presentations, to radio, television, print media. Janette also changed as her story, and the larger story have continued to unfold over the years, granting her more and more insight into her own experience, that of other survivors, and victims' family members, as well as a deeper understanding of the larger political realities that continue to be discovered by the truth movement. Janette's evolution can be seen in her art and through her actions, over the years. Her story is a powerful one and I hope that someday a great filmmaker will be able to piece it together, right now it is scattered in many documentaries, many places, entwined with many other narratives. Janette was a very important bridge between many people whose lives were deeply changed by the events of September 11th.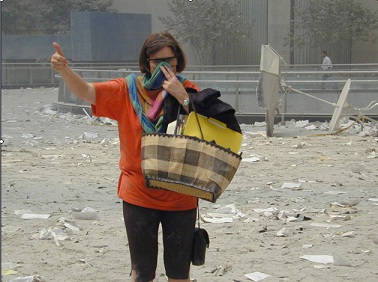 September 11, 2001 - Janette MacKinlay in the dust near Ground Zero
I remember some things that she said again and again about the deafening noise of the towers collapse and the incredible silence in the aftermath (or maybe their ears actually were damaged and they did become literally deafened in the wake of the collapse). Janette, as well as many others suffered from post traumatic stress, in the aftermath, and she tried to heal herself through her artwork, the beautiful, gentle, ancient art of Ikebana, the Japanese art of floral arrangements. However, she knew that those immediately in the vicinity of the towers, who heard the noise, breathed the air, felt and were transformed to the marrow of their bones by an event which would forever haunt them.
When she was suddenly diagnosed with brain cancer last February, she knew instantly what the cause was – 9/11, the dust…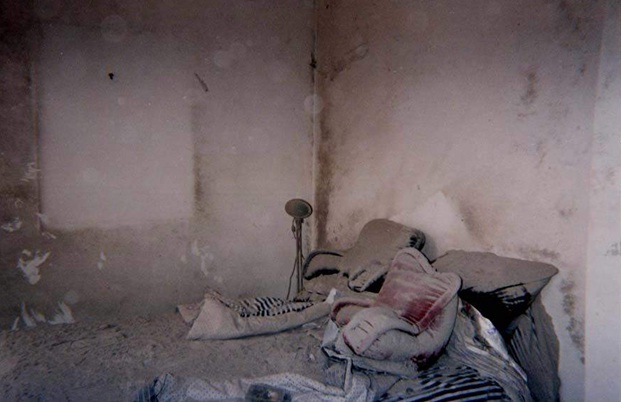 Dust at her apartment across the street from the WTC towers
Janette appears in the latest Loose Change documentary- Loose Change: 9/11 An American Coup, telling about how when she returned to her apartment to gather what valuables survived, not just the attack, but the looting that took place, she saved some of the dust and gave some to Professor Steven E. Jones when he realized that analysis of the dust would provide important clues into what really happened.
Janette moved back to her home in Oakland in 2001 and I only met her for the first time in 2005 when the 9/11 Commissioners were addressing the Commonwealth Club in San Francisco. They are the ones who convinced Janette that they were lying and covering up the truth. I traded a copy of David Ray Griffin's book- The New Pearl Harbour- Disturbing Questions about the Bush Administration and 9/11 for a copy of her book. On that same day, my friend, Blaine Machan, who created the Deception Dollar gave me her name and phone number via e-mail. She was distributing some of our Deception Dollars at one of her art exhibitions.
I invited her to the Northern California 9/11 Truth Alliance meetings, and also persuaded her to become our treasurer that autumn. We became friends and worked together on many events and projects.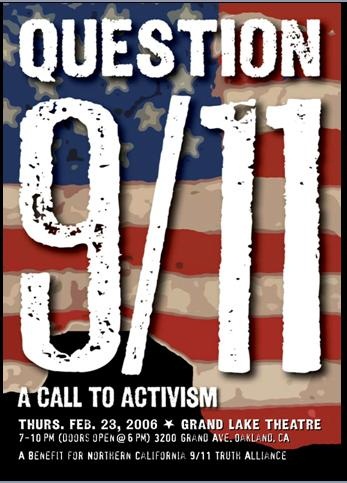 Janette organized the February 23, 2006 Question 9/11- A Call to Activism event
Another member of our group, who created the original http://www.sf911truth.org website also became a very good friend of Janette's and they traveled together to New York City where she showed him where her old apartment was. By some miracle, the apartment had been renovated and was available again, and Janette and Jim decided to move back to New York City. So Janette became an amazing bridge between activists on the West Coast and activists on the East Coast, and helping and participating in, and organizing two major 9/11 Truth Conferences- The Revealing the Truth- Reclaiming the Future Conference in Chicago in 2006, and the 9/11 Accountability Conference in Arizona in 2007.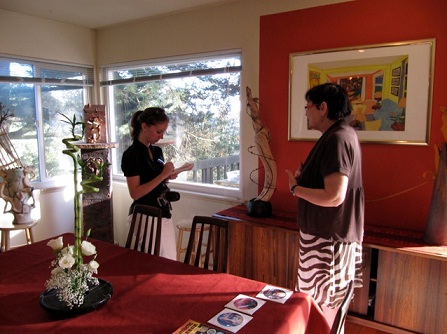 Janette with Oakland North reporter, Laura Callahan, at her home 9/2009
Janette had a beautiful home and was a wonderful hostess, and we had a lot of "mailing parties" at her home, as well as just "parties and celebrations" for many reasons (including to celebrate the wedding of Jim Hoffman and Victoria Ashley), visits of activists from other parts of the country, whom she often hosted at her home. She held a fundraiser there for the 9th Annual Northern California 9/11 Film Festival which was also a benefit for Architects and Engineers for 9/11 Truth and NYCCAN.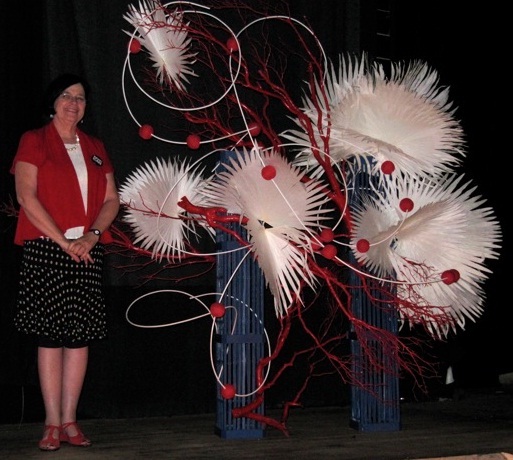 Janette with her giant Ikebana sculpture- "Wake Up Call"- note the two blue towers and the dramatic explosion...
She believed strongly in accountability and spent time in the office of Attorney-General Jerry Brown (our newly elected governor) to push him to look into and take on a new investigation into 9/11. She also approached Senator Barbara Boxer and others, and encouraged her peers to contact the media and put pressure on elected officials, as well. She had a tremendous amount of courage and heart, inspiring many people to take action. She was tremendously loyal, encouraging and supporting those who stuck their necks out to organize events, to speak, to take action.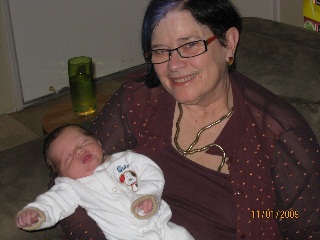 Proud grandma with her one week old grandson, Huxley
She was proud of her two sons, Mark and Brian, and most delighted when her grandson, Huxley was born. She had planned to take care of Huxley two days a week, when suddenly one evening her speech center was impaired by the tumor and the hospital determined something was seriously wrong.
Many of us urged Janette to try some non-traditional treatments, but she had confidence in the medical profession and her sons who rushed to her side to help her through the initial biopsy, surgery, radiotherapy, chemotherapy.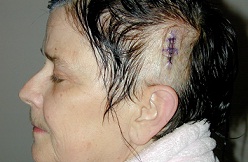 Janette sent me this photo entitling it "realism"
After the surgery, she suffered from aphasia (which limited her ability to talk, but she understood everything she heard). For awhile she surrounded herself with art, beauty, family, and friends, but she was drawn back to the Truth Movement, joined us to have dinner with Bob Bowman and his wife, Maggie, when they visited the Bay Area last summer. A stroke impaired the right side of her body and curtailed her ability to walk.
In November, we held healing circles for Janette (and sent some healing energy to Jim Lecce, Chuck Millar, and David Ray Griffin) too. At the same time, we also worked on an art project that Janette had begun before her illness, and we packaged some beautiful art cards which featured photos of some of her Ikebana creations.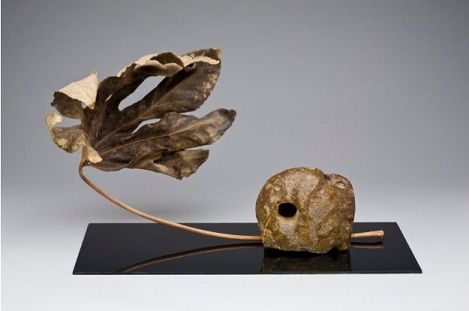 Anchored to Earth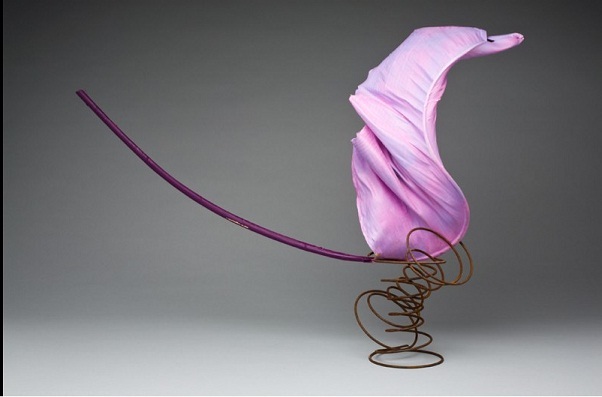 Spring Breeze
I last saw her on November 23rd when hospice was visiting for the first time and her sons had replaced her regular bed with a hospital bed. We did a very small healing circle and I was afraid that it might be the last time I saw her.
A very old friend of Janette, Melissa, who had organized the healing circle parties, called me to give me the sad news yesterday. Today I phoned to express my condolences to her family and to find out if they were planning services for Janette. Her son said that Janette had stated from the very beginning that she didn't want a memorial service. I could believe that Janette wouldn't want a funeral with everyone in mourning, but I suggested that she might appreciate it if we celebrated her life. That sounded like a good idea to him and I think the family would be open to joining us in a Memorial Celebration, perhaps at the end of February on or near Janette's birthday.
If you think that's a good idea, please let me know. Right now I think we all are feeling grief and loss, but at some point we should remember and celebrate what a blessing and gift Janette was to all of us.

We Need to Remember Janette- Her Warmth, Generosity, Creativity, Courage, Joy, Sensitivity...
Here are links to-
Janette's websites-
http://www.janettemackinlay.com
http://www.theneedtoremember.com/
Janette's presentations-
http://www.youtube.com/watch?v=L6wY5ZjiQ34 - May 1, 2009 on WTC Dust Davis, with Professor Steven Jones
http://www.communitycurrency.org/Feb23.html - Question 9/11- A Call to Action, Grand Lake Theater Feb 23, 2006
http://www.youtube.com/watch?v=EWmhJ51WPyA&feature=player_embedded May 2009, Speaking out for NYCCAN
http://video.google.com/videoplay?docid=-2912791646250753577# - Lifting the Fog Conference UC Berkeley, 11/11/2006
articles about Janette-
http://plumdreams.com/2010/04/16/dangerous-debris/#more-419 Dangerous Debris by Joyce Lynn, April 2010
http://oaklandnorth.net/2009/09/09/911-film-festival-brings-truthers-to-grand-lake/ 9/11 film festival brings "truthers" to Grand Lake 9/2009 by Laura Callahan
radio interview-
http://www.publicbroadcasting.net/wamc/news.newsmain/article/2706/0/1536455/WAMC.News/NYC-CAN.Pushes.For.New.9-11.Probe NYC-CAN Pushes For New 9-11 Probe, Susan Barnett (2009-07-30)
http://abmp3.com/download/4754311-janette-mackinlay-interview.html Truth Revolution Radio July 9, 2007
http://questioningwar-organizingresistance.blogspot.com/2008_03_01_archive.html Questioning War- Organizing Resistance, March 31, 2008