Pete Carroll
http://www.usatoday.com/story/sports/nfl/seahawks/2015/01/29/pete-carroll-911-sept-11-truth-movement-truthers/22556683/
January 30, 2015
PHOENIX — Pete Carroll is a conspiracy theorist, at least that is how the conspiracy theory goes. And it is one that has gained the Seattle Seahawks coach an unlikely following from the "9/11 Truth" movement in the lead-up to his attempt to win back-to-back Super Bowls.
Two years ago, Carroll met with former Army chief of staff and four-star general Peter Chiarelli and, according to Deadspin citing "sources," brought up many popular conspiracy theories concerned with the attacks of Sept. 11, 2001, on the World Trade Center and quizzed Chiarelli about their veracity.
When asked by USA TODAY Sports on Tuesday about the "9/11 Truth" movement and supporters who back him, Carroll made no attempt to deny his interest.
"Any notoriety is good I guess," Carroll said, when told by USA TODAY Sports how he had become a favorite among Truth activists. "I will always be interested in the truth, yeah."
Originally posted on 7/22/2013
http://newyork.cbslocal.com/2013/06/14/report-seahawks-coach-peppered-4-star-general-with-911-conspiracy-questions/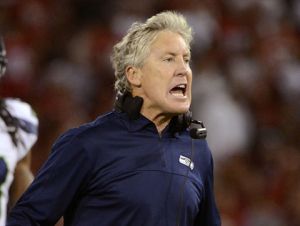 NEW YORK (CBSNewYork) – Seattle head coach Pete Carroll hosted a retired four-star general at the Seahawks facility last spring and blitzed him with questions about whether the 9/11 attacks "had been planned or faked" by the government, according to Deadspin.com.
Decorated general Peter Chiarelli, who had just called it a career, was discussing football and brain injuries with Carroll before the conversation took a turn, Deadspin reported.
"Every 9/11 conspiracy theory you can think of, Pete asked about," former NFL linebacker Riki Ellison told Deadspin.
Ellison said Carroll "didn't stop at 9/11—he had lots of questions about the role of the military today."