Prof. Griffin Requests Focus on WTC 7 (SCAD) Running up to the Tenth Anniversary of 9/11!
Please read the whole article here: http://www.911truth.org/article.php?story=20100527162010811
SCAD: State Crimes Against Democracy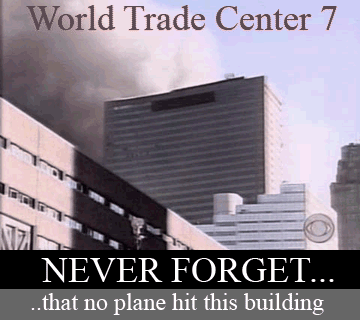 Conclusion and Proposal of Prof. Griffin's Paper "Building What? How SCADs Can Be Hidden in Plain Sight"
Through these and related means, the truth about the collapse of WTC 7 has been effectively hidden, even though it has existed in plain sight all these years. Even the bare fact of the collapse itself has been so effectively hidden that in 2006 over 40 percent of the American public did not know about it, and in 2009 a judge in New York City, upon hearing a reference to Building 7, asked: "Building what?"
I offer this essay as a case study in the power of the forces behind SCADs or deep events to hide things that exist in plain sight, because if they can hide the straight-down free-fall collapse of a 47-story building captured on video in broad daylight, they can hide almost anything.
I say this, however, not to instill despair, but to point to the seriousness of the problem, and also to pave the way for making a proposal. Recognizing the high correlation between those who know about the collapse of WTC 7 and those who believe that a new – or rather real – 9/11 investigation is needed, I propose that the international 9/11 Truth Movement initiate, starting this September, a world-wide, year-long "Building What?" campaign. Through this campaign, we would seek to make the fact of its collapse so widely known that the mention of Building 7 would never again evoke the question: "Building What?"
--END--
Many have concluded that the collapse of WTC 7 is the Achilles heal of the official account of the 9/11 Attacks. Griffin's proposal is just one of many asking for a focus on 7, so there is much support already for this concept and doing it approaching the tenth anniversary seems a very good idea indeed!