laws
Selling Futures reviews the many aspects and consequences of the complete takeover of US society by consolidated corporations and their attempt to globalize and militarize the entire world under the cover of "privatizing" resources and fighting a "war on terror". Of course, as always, 9/11 Truth is an integral part of Vic's songs and videos. Eric Golub is featured on ukulele. The song was recorded by sound engineer/owner at Robot Envy Studio in Berkeley, CA.
If you like Selling Futures, support it with "like" and "share" buttons, as well as sending the link out in your emails and posting it to other sites. The same goes for any of the 9/11 Truth specific videos: Blowback or Bloody Treason, Trouble in the Rubble, Ballad of William Rodriguez, and Cheney's in the Bunker. Thank you! The song, Selling Futures, is copyrighted. But the video has a Creative Commons Copyright with free download and use without the right to change the video.
Vic Sadot is Truth Troubadour at twitter, 911blogger, gmail, youtube, bliptv, and blogspot.
Selling Futures - Truth Troubadour Music Video at You Tube
http://youtu.be/qwN2Dr69xzk
By Michael Collins
Part II of III (Part I)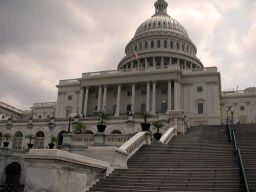 WASHINGTON - Placed in office through legalized bribery, supported by public funding for their every need, protected against the laws that we're expected to obey, Congress represents the epitome of lawlessness; lawmakers who have no regard for the law. (Image)
Members of Congress are different. They get to retire at age 62 with lifetime pensions and health benefits. To qualify, they need just five years of service. They get free phone, mail, and other communications plus paid domestic and foreign travel. Supposedly, they're not allowed to take gifts but the list of exceptions offers plenty of room for luxurious appreciation.
The biggest gift of all - a six to seven figure job with a major corporation or lobbying firm right after retirement - is still fair game for any member. The revolving door never stops.